Learn, save, win! Take the Enbridge Gas Energy School Challenge
You could win up to $3,000 for your school
Join schools across Ontario to see who can save the most energy during the annual Enbridge Gas Energy School Challenge! This friendly competition rallies students to work together for a more energy-conscious future.
Registration opens in September. Stay tuned for updates.
Why participate?
Help your school become more energy efficient.
Work collaboratively and learn about energy conservation.
Earn points for completing group activities.
Win great prizes!
Make your impact!
It's easy and fun to participate––students form an Energy Team and work together on projects to make their school more energy efficient. By logging completed activities in our Challenge Dashboard, teams can earn points towards great prizes and track their progress at a glance.
We provide curriculum modules to help students learn how natural gas is used and how to reduce energy use with more efficient technologies and positive actions, such as a classroom energy audit and an 'ugly sweater' day. Plus, students will have access to their school's gas consumption data to get a closer look at energy in action!
Kick-off prize
$100 Staples Gift Card for the first 25 schools who register and complete the first activity.
Grand prizes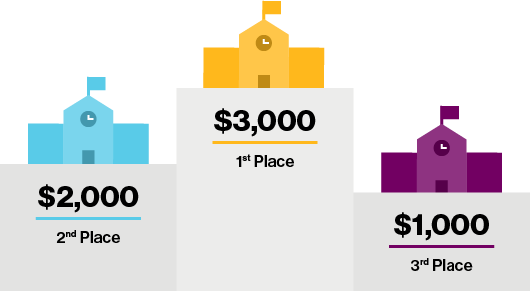 Hear from one of last year's 1st Place winners
How it works
Register your school and a create a Team to lead the Challenge.
Submit your completed conservation activities online to earn points.
Have fun!
Coming Soon…The 2020-2021 Energy School Challenge.